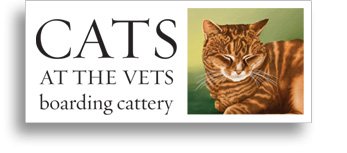 Welcome to Cats at the Vets.

We are a brand new, purpose-built, luxury boarding cattery attached to At the Vets vet clinic. Every attention is given to the safety, comfort and well-being of your cat during its stay with us.
Every cat receives personal attention every day to ensure it is healthy, happy and contented.
Kerry Brown
Cats at the Vets is owned and operated by Kerry Brown who holds the National Certificate in Veterinary Nursing.

Kerry has a lot of experience in looking after cats both at home and in the vet clinic. She also spent a couple of years volunteering with Cats Protection League and knows how important it is to make cats feel happy and secure when they are in a new environment. She is very happy to spend as much time as needed with your cat to ensure that it settles happily into the cattery. She is also very aware of the health issues which can affect cats and will keep very careful records of every cat under her care to ensure that it is healthy and happy.

One thing you can be guaranteed is that while your cats are staying at Cats at the Vets, they will receive a lot of hands-on cuddle time. We know how important it is to keep cats happy with lots of human contact, especially in a different environment, and will make sure that your cat gets all the attention it needs to make it feel relaxed and contented.